Aarti Grover
Managing Director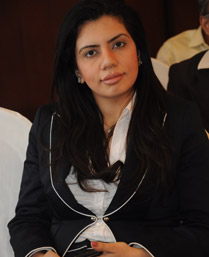 Aarti Grover, a second generation entrepreneur and a dynamic business leader, is the Managing Director of CMS Computers. Aarti is a visionary and her business acumen is reflected in the transformation of CMS Computers over the last three years.
She strongly believes in constant innovation and building enduring relationships with customers and stakeholders. Under her able leadership, businesses of CMS such as e-governance, Brodcasting Division and Enterprise Security Solutions scaled new heights and opened the floodgates for new markets in the country and abroad.
Aarti Grover began her illustrious career as a Supply Chain Management Consultant at CSC, a FORTUNE 500 Company. She later moved to San Francisco and joined SYSTIME, the world's largest JD Edwards Services company. She played an instrumental role in marketing an end-to-end retail management solution known as VersaPOS™. She was also the business director of a joint venture project between CMS and Datacard, one of the largest global providers of secure identification and card issuance solutions.
In 2004, Aarti joined Kaycee Industries Ltd, an erstwhile subsidiary company of Bajaj Group of Companies, after CMS Computers took over the company in 2003. She moved up the ranks quickly by formulating and implementing key strategic initiatives which resulted in increased overall productivity. Elevated to the position of Business Head of Kaycee Industries, she transformed the business in a short span of one year. Under her tenure, Kaycee's annual growth leaped by 25 per cent. Aarti, an MBA graduate from University of San Francisco, repeated the success story when she was given the Broadcast Division (CMS-NVL) of CMS to spearhead. She led the division for three years and turned around the division into a profitable venture.
In her current role as Managing Director of the group, Aarti drives the company's business operations, ensuring the company's position as one of the leading IT services and solutions provider.