Anil Menon
Chief Executive Officer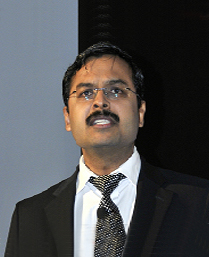 Anil Menon spearheads the overall business and operations at CMS and is responsible for the organisation's strategic direction and growth. Anil has vast experience in leading and managing innovation driven technology enterprises.
He brings to the table over two decades of diverse expertise in the IT industry, working with some of the leading technology firms including Sun Microsystems, Citrix and IBM.
Prior to CMS, Anil was associated with IBM Software as Executive Director responsible for Business Partners, Inside sales, Marketing, Subscription/Support Services across India and South Asia. During his seven-year stint at IBM, he led various business units including Marketing, Business Partner Organization, ISV/Developer Relations, General Business/SMB Sales, Geo Expansion across India and South Asia as well as Industry Solutions partner organisation across Growth Markets. He led several path-breaking initiatives at IBM, including the successful conceptualization and launch of "Project Praviin" which saw infusion of over 100,000 IBM certified professionals in India and establishment of 150+ Centre of Excellences (CoE).
Earlier, Anil set up Citrix's regional entity as its first employee as well as had an Entrepreneurial stint setting up and running India's pioneering managed security company – SecureSynergy.
Anil holds a B-Tech Engineering degree in Electronics & Communication and MBA in Marketing in addition to an Executive Leadership Certification from Cornell University. He has won IBM's prestigious Global Management Excellence Award and is a recipient of the Indira National Award for Engineering Excellence.